Many readers are asking: "Is the Trump Rally going to turn into a Trump Crash? If so, what should I do?"
My two most-recent columns give you most of the answers.
In fact, the first one, "7 Horsemen of the 21st Century Apocalypse" elicited such passionate comments from readers, I decided to respond with an equally passionate gala issue, "Shocking Forecasts for 2017-2022."
In it, I told you about major cycles set to converge this coming October. I showed you why everything in your life is about to change. And I laid out four critical phases in a massive debt crisis ahead, generating an opportunity to build not just one, but FOUR entirely separate fortunes.
Meanwhile, readers also have a batch of related questions. Here are some of the most-interesting (or-explosive) ones, followed by my responses …
N. Mast writes: "What news! Everyone better ask this question: So, What Do I Do Now?"
My response: My father, one of the very few who forewarned investors about the Great Depression, explained it this way:
"There are two big mistakes you can make. The first is complacency. If the danger is small, you don't worry about it. If it could be catastrophic, you don't believe it.
"The second mistake is panic. You over-prepare or you do it too soon. You disrupt your life unnecessarily. When nothing happens, you're the boy who cried wolf."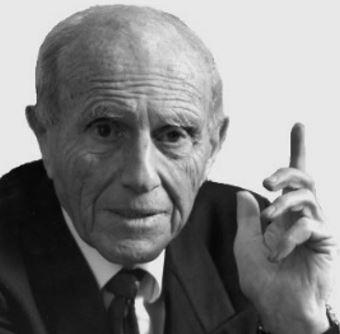 Martin's father, Irving Weiss, circa 1990.
The danger he was talking about was a future stock market crash. And his solution to the dilemma was to stay flexible with liquid investments, always staying on the lookout for advance warning signs.
That advice is still valid for the stock market today. And it's also valid for a future social crisis or war. So in the very near future, I'll comment on possible warning signs for both.
N. Mast has a follow-up to his what-do-I-do-now question: "What say you besides the purchase of stocks?"
My answer: I'm like you. When I lie awake at night thinking about the news swirling around us, stock investing is not the first thing that comes to mind. What I worry about first is the safety of my family: My son who lives in Tokyo. Our adopted grandchildren who live near us. The 260 children who attend our school.
But then I realize that nearly everything I might need to help protect them from looming dangers will cost money, sometimes quite a bit of money. So that steers my thought process back to two things: How to build wealth with relative speed; and how to put that wealth away in a safe place. I'll send you more specs on this topic tomorrow morning. Look for an email from me between 10 AM and 11 AM.
(I know you crave more-specific instructions, but please be patient with me. Coming soon.)
Bonnie's comments are along the same lines as N. Mast's. "It's too huge. We can only save what we have in our power." Bonnie then writes about voting power and what to do with it.
My response: I think you should also vote with your dollars. You can invest in companies that can defend, protect and strengthen us … and, by so doing, also give you the best profit opportunities. (I also cover this aspect in my email tomorrow. The sender name will be Martin D. Weiss, Ph.D.)
Larry adds this analysis: "There has been low spending on defense by the U.S. over the last bunch of years, relative to GDP. There is bipartisan consensus to boost that spending. The large defense contractors seem to be a reasonable place to overweight investments today. Further, they are not overvalued, particularly with Huntington Ingalls Industries and Rockwell Collins having PEGs in the 1s. If hostilities do break out, G-d forbid, these stocks could be a reasonable secure harbor for protection of assets."
My comment: Well said! We also like Raytheon, Lockheed Martin and Northrop Grumman. But as always, wait for weakness before buying.
Rob M. adds: "Impossible to know how far the seven corrective pendulums must swing before we begin to regain stability. But hopefully when we do, those of us who survive will experience the beginning of the greatest boom of all time."
My comment: What you call the "seven corrective pendulums" I call the "Seven Horsemen." I take it, though, that you don't mean just a correction in the ordinary stock market parlance. Like me, I think you recognize that what we face is the rising risk of something broader and deeper. But like you, I believe there's a light at the end of nearly every tunnel.
Longshot12, who is pro-Trump, moves the conversation to politics: "Congress, Republicans and Liberals both act like they won the last presidential election and boycott all ideas that helped Republicans and Trump win, ignoring blatantly the people's will – for Healthcare; better relations with Russia; and building the Mexican wall, not to keep out legal immigrants, but the criminals and gangs that are crossing daily.
"Congress would rather fight WW III, than admit why Trump won the election, and why Republicans had no chance of winning otherwise. Now we have the mess, Congress against the American Majority, a disgrace for this country."
My reply: I think my chart says it all. And it's so important, I'm going to show it again:
Political divisiveness in this country didn't suddenly make its appearance on the presidential campaign last year or in Charlottesville's Emancipation Park last week. It's a schism in our society that's been growing steadily since the 1970s (see red line in chart).
Nor is this happening by itself. As I explained two weeks ago, this is all part of a bundle of megatrends — not only political extremism but also extreme income inequality (black bars), the vast accumulation of debts, Fed money-printing and more.
Whenever you talk politics, always remember this phenomenon. Try to rise above the scene and look down on events from a higher plane. If you can do that, you will recognize that the bigger, systemic reason people are angry at each other may be very different from what they say or think. In that sense, we are not just victims of our emotions. But our emotions themselves are victims of social forces that we're often unaware of.
The first step to escaping that mental trap — and to regain better control over our destiny — is to become more aware of it. So study the chart. And if you have specific questions about it, please let me know in the comment section below this column.
The 24-karat blunder:
The costly mistake every gold investor needs to avoid like the plague …
Geo is anti-Trump and responds to Longshot12 this way: "The Trump cultists just can't accept their messiah is a lunatic. Politics is about compromise and cooperation; the current despot is about chaos, division, narcissism, bluster, personal attacks, demonization and cashing in on his position. What a disgrace to the office of the president."
Tony replies to Geo with this: "What is the compromise position with someone who wants to destroy you? We tried 25 years of 'compromise' with North Korea. Can you be a bit more specific as to the position we should now take? Do you recommend we cooperate with them so that they can achieve their goal of our destruction?"
Grist2 also responds to Geo: "Now that is funny. Politics is compromise and cooperation? Where the heck were you during the 8 years of Obama? Guess he was feeding you what you ordered while the rest of us starved to death. Guess what, Geo! Hillary would have put Trump to shame in your terms of Chaos, Division, Narcissism, Bluster, Personal attacks, Demonization (or rather demoralization) and cashing in on her position. Think you should consider standup comedy. Now, can we get back to talking about making money in the stock market?"
My response: Sure, but first I need to say what I'm thinking. When I do, don't turn your wrath on me. Instead, please take it within the same vein of objectivity (and some fun) that I do. ?
Many years ago, I asked Dr. Marvin Harris, my professor of anthropology, about the causes of conflicts and wars. He was just finishing the final draft of a brilliant book that became quite famous, "Cows, Pigs, Wars, and Witches," and here's what he said:
"That's a very interesting question, isn't it? The fact is, the combatants themselves rarely understand the true, underlying causes of their fighting. Instead, they explain it in terms of their own personal emotions or conditions. Headhunters like the Jívaro in Ecuador say their goal is to capture the soul of the enemy. Crow warriors say they want to touch the dead body of the enemy to prove how fearless they are. Other warriors are consumed with yearning for vengeance. Still others say they hunger for human flesh. But are these emotional and cultural expressions the true causes of war? No! The true causes of war are systemic. In other words, they lie deeply imbedded in the technological, economic, social, political cycle of the day."
Larry Edelson, Circa 2003
Our colleague Larry Edelson, who passed away in March, also had a degree in anthropology. And he saw the world through a similar prism: "You have two choices," he told me on his deathbed. "You can be an unknowing victim of the cycle. Or you can rise above it, understand it, and use it to your great advantage."
Good luck and God bless!
Martin