Calendar Profits Trader
---
Calendar Profits Trader gives you full access to the "Buy" and "Sell" signals issued by two of America's most highly respected currency trading experts:
Boris
Kathy
Mr. Boris Schlossberg is a weekly contributor to CNBC's Squawk Box and a regular commentator for CNBC Asia and CNBC Europe. His daily currency research is quoted by Reuters, Dow Jones, Bloomberg and Agence France-Presse newswires and appears in numerous business publications and newspapers worldwide.
Mr. Schlossberg has written articles on trading for SFO Magazine, Active Trader and Technical Analysis of Stocks and Commodities. He is the author of Technical Analysis of the Currency Market and Millionaire Traders: How Everyday People Beat Wall Street at its Own Game, both of which are published by Wiley.
Boris' extensive experience in trading and developing momentum-based techniques provide the foundation for BKForex's strategies.
Ms. Kathy Lien is a leading currency expert with more than 15 years of Forex market experience. Frequently touted as a trading prodigy, Ms. Lien graduated NYU Stern School of Business at just 18 and immediately started working on the Forex desk at JPMorgan.
She started the #1 Forex news site DailyFX.com and is now a regular contributor to CNBC's Squawk Box and a former host of CNBC's Forex show, Money in Motion.
Ms. Lien is also an internationally-published author of the best-selling book, Day Trading and Swing Trading the Currency Market (now in its third edition) and The Little Book of Currency Trading. Her extensive experience in developing trading strategies using cross markets analysis earned her worldwide recognition.
Ms. Lien has taught Forex to thousands of traders and is invited to Asia, Europe multiple times a year to conduct beginner and advanced workshops.
An Eternal Bull Market
When stocks and bonds worry you, you can still go for all the profits you want in the global currency markets.
You could always find a way to make money in currencies because they trade in pairs; when one currency falls, another rises.
Plus, currency trading is the world's largest financial marketplace that operates 24-hours a day, 6-days per week around the world.
Whatever your objectives or risk tolerance, there's a currency vehicle that fits you hand-in-glove:
Currency ETFs: Easy to trade leveraged and single-beta ETFs targeting longer-term trends in major currencies including:
CurrencyShares Australian Dollar Trust ETF (FXA)
CurrencyShares British Pound Sterling Trust ETF (FXB)
CurrencyShares Euro Trust ETF (FXE)
CurrencyShares Japanese Yen Trust ETF (FXY)
And many more …
Plus, leveraged ETFs including:
ProShares Ultra Yen ETF (YCL)
ProShares UltraShort Euro ETF (EUO)
And Calendar Profits Trader may also recommend options on these ETFs for added profit potential.
The Spot Forex Market: Short-to-mid term leveraged trades using the major spot currency pairs and currency cross-pairs. For example:
EURUSD — Euro/US Dollar
USDCAD — US Dollar/Canadian Dollar
USDCHF — US Dollar/Swiss Franc
EURJPY — Euro/Japanese Yen
USDJPY — US Dollar/Japanese Yen
And many more currency pairs.
Currency Options: Target short-term leveraged profit potential in global currencies with easy-to-trade Nasdaq listed FX options including. Here are the underlying NASDAQ symbols for the currencies that we could potentially recommend options on in this service.
| | |
| --- | --- |
| Currency | Symbol |
| Euro | XDE |
| Japanese yen | XDN |
| British pound | XDB |
| Canadian dollar | XDC |
| Swiss franc | XDS |
| Australian dollar | XDA |
| New Zealand dollar | XDZ |
Benefits of Investing in Forex markets:
Trading Forex or their derivatives is not for everyone. It involves risk that you may not be comfortable with. Here are some of the key benefits of the Forex market:
An average of $5 TRILLION changes hands in global currency trading 24 hours a day, six days a week — the world's largest and most liquid financial market.
Always a bull-market where you could profit from. Since they trade in pairs (EUR/USD) there's always at least one currency going up — and usually several — while others are going down.
The Ultimate in Simplicity: Picking the right stock out of thousands can be like trying to find a needle in a haystack, but you only need to follow TEN major currency pairs allows you to earn consistent profits in this market.
Long-term trends: Up trends in currency markets tend to be the steadiest and most reliable trends of any other financial market, giving you the ability to compound your gains over long periods.
Low Minimums and High Leverage: You can open a currency trading account with just a few thousand dollars or less — yet you can control $100,000 worth of currency for just $1,000!
Thanks to the ease of online trading today ANY investor can effortlessly buy and sell currencies with just a few hundred dollars per trade.
Huge tectonic shifts in the global economy are about to impact currency markets creating new and potentially profitable trends.
The world's central banks have been engaged in ultra-easy money policies since the financial crisis over six years ago, but not anymore.
Now, central bankers are breaking ranks, the Fed is raising interest rates while many other central banks ease — there's never been a better time to be a currency trader.
Calendar Profits Trader gives you three ways to win:
With Calendar Profits Trader, Kathy Lien & Boris Schlossberg deliver all the tools you'll need to turn breaking economic data and political headlines into high-profit potential currency trades with their demonstrated strategies, making Forex as easy to trade as stocks and ETFs:
Trade the Story — economic outlook, interest rates
Trade the News — economic data, politics
Trade the Charts — technical analysis, sentiment
The Forex market is not as foreign as you might think and selecting the right currencies to buy and sell can be simple. In fact many of the same stories that drive stock prices, bonds and commodities also drive Forex.
Using a combination of technical, fundamental and sentiment analysis Kathy & Boris identify the best low risk– high reward trade opportunities in global currency pairs.
You can expect active trade recommendations — on average 1 to 3 new ideas every week — featuring short-to-intermediate term money making opportunities using three primary investment vehicles:
Membership Benefits: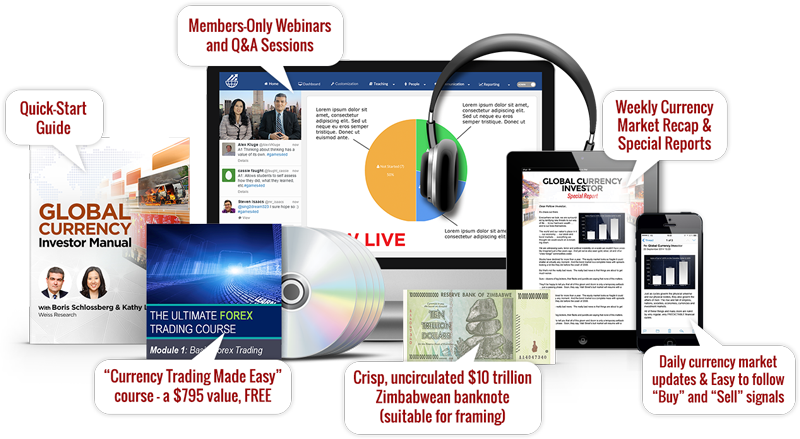 Daily Currency Market Updates: Insightful research and analysis covering global economic events and the impact on currency markets. Expect to receive updates as early as 8 AM and as late as 9 PM Eastern Time.
Trade Recommendations: Issued as needed and delivered by email and text messages. Expect about 1-3 trades per week on average, focused on high probability moves. All trade recommendations feature stop levels and profit targets.
Weekly Forex Market Recap: Weekly podcast from Boris & Kathy wrapping up the week's major Forex moves, economic data and updates on open positions.
Quarterly Members-Only Webinar: In depth 30-minute presentation of Forex market strategy and investment opportunities; plus Q&A.
In-Depth Special Reports: Reports covering different aspects of Forex analysis including: Technical, fundamental and sentiment.
Suggested account size: $10,000-$25,000, but can trade with as little as $5,000.
---
 Enrollment for Calendar Profits Trader is now closed.
For more information, please contact Customer Service at 800-393-0189.
---